2020 School Counselor of the Year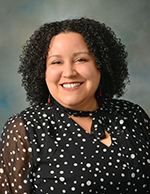 Congratulations to Laura Ross, school counselor, Five Forks Middle School, Lawrenceville, Ga., the 2020 School Counselor of the Year. Ross' prior work as a counselor at an adult men's correctional facility fueled her passion for restorative justice in her current role at Five Forks. During the 2018–19 school year, Ross noticed male African American and Latino students made up 49% of all discipline referrals. "With referrals come consequences, such as in- and out-of-school suspension, disconnecting students from direct instruction," Ross said.
"Laura is a true hero when it comes to helping us grow as a school in building relationships with our students," said Christine Douthart, principal, Five Forks Middle School. "She is a school counselor who has the best interest of students at the heart of everything she does." Read more about Ross.
2020 Finalists
The 2020 School Counselor of the Year finalists are: Amanda Jo Bustamante, school counselor, Paso Del Norte School, El Paso, Texas; Jennifer Kline, school counselor, Festus High School, Festus, Mo.; Julie Taylor, school counselor, Starr Elementary School, Oregon, Ohio.
State School Counselors of the Year
Read about the 2020 state school counselors of the year.